What an absolute blast ! To be invited by a good friend (thanks Eric!) to join this amazing group of aficionados, to meet with Ian D'Agata, to taste mature(ish?) Barolo with excellent food (and service - Ai Fiori did a marvelous job)…what a day! Below are some notes from the night as well as photos. Overall - I saw a vintage that is mainly ready to drink (with a few exceptions) but is in early maturity - with all the beauty of ripe fruit still dominating the scene, and the tannic structure quite present - though no longer obscuring the enjoyment of the wine.
We began with the 2010 Larmandier-Bernier Champagne Grand Cru Les Chemins d'Avize (93 Points): stunning purity, bright citrus, lots of depth in mid, mineral and stone, long, mid is lemon curd …loved it - but as it was a "starter" to a giant tasting - I could only wish I had given it more time. Excellent
1998 Bruno Giacosa Barbaresco Asili (95 Points): stunner. one of the best 3 in an impressive lineup of 1998 Piedmontese tasting. Floral, Red roses and violets, plush cherry fruit in the mid, serious, with great tannic structure, red fruited, bright and yet quite rich as well, long cherry and spice finish. hints of earth already but that will likely come with more age. elegance and power…what else does one want?
1998 Bruno Giacosa Barbaresco Rabajà (93 Points): turns out - this is the first Giacosa i have ever had - "way back" in 2006 (to be fair - I only got into wine in 2003 or so…) and i loved it then. BUT it was also not going up against a lineup like the one tonight…It showed darker cherry tones than the Asili, with more plush fruit in the mid, hint softer, riper. There is some tar and earth under the ripe black cherry as well, and the structure to support it. I think it would have done well in any other flight today - but the Barbaresco flight was too strong.
1998 Bruno Giacosa Barbaresco Riserva Santo Stefano (95 Points): This was one of 2-3 wines tonight that i would qualify as "not ready". Unlike the Asili , for example, that will surely develop but is just amazing now, this felt a lot like drinking potential. Don't get me wrong - the potential is stunning…but I find it harder to grade it. The wine was showing lighter on the nose than the others, more elegant, refined, and yet somehow - richer as well. Lush but bright red fruit, silky tannin, barely a hint of development in the earthy tones, bits of dry fruit and herb. Long smooth finish… 95+++ and who knows what it will show in another 5 years? 10 ?
1998 Roagna Barbaresco Crichët Pajé (96 Points): I enjoyed this in 2006 at a trade tasting but…how well can you really taste something like this beauty from a small sip in a crowded room…This was my WOTN. By preference perhaps, by a hair… by the fact that it took no prisoners. Certainly the most masculine wine of the flight, maraschino cherry nose, earthy, powerful, stunning… mid is ripe but staying cherry, but more aggressive structure and mineral, earthy core. How can it stay "light" and yet show this strength? I could not stop drinking this. Impressed? more like blown away. It took on 3 Giacosa wines and came away with a win.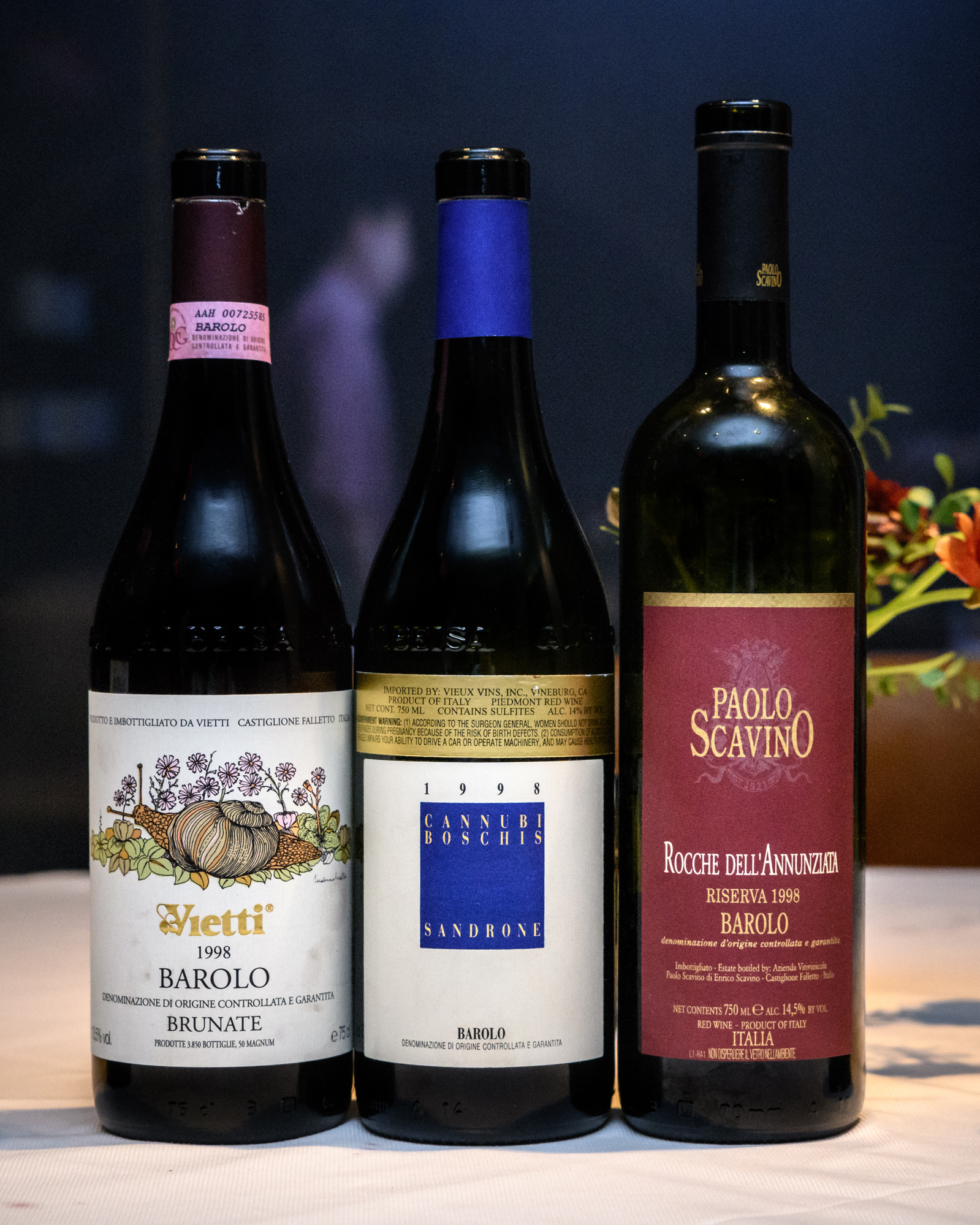 1998 Vietti Barolo Brunate (93 Points): Rich ripe cherry, maraschino even…at times - the earthy notes of old Kriek. Rich yet quite elegant, black fruit in the mid, with black cherry giving way to hints of blackberry. earthy, sexy wine with a long plush finish… hard to not fall in love with.
1998 Luciano Sandrone Barolo Cannubi Boschis (91 Points): Perhaps stylistically it was not in my wheelhouse? hints of vanilla over the cherry, herbs and hint of dry flowers. dark fruit, elegant in the mid but rather rustic on the structure. lacking some finesse.
1998 Paolo Scavino Barolo Riserva Rocche dell'Annunziata (93 Points): This was a hard one to taste along with others…like bringing a BDX to a Burgundy dinner. Less about elegance and fruit, this was about structure and power. White gloves and spit-shined boots. oak is obvious but well integrated, full bodied, bruiser of a wine. Dark fruit, pine, black cherry, bright in the mid, with the power to lift any rich flavors in the meal. This is a Bordeaux drinker's Barolo and a darn good one.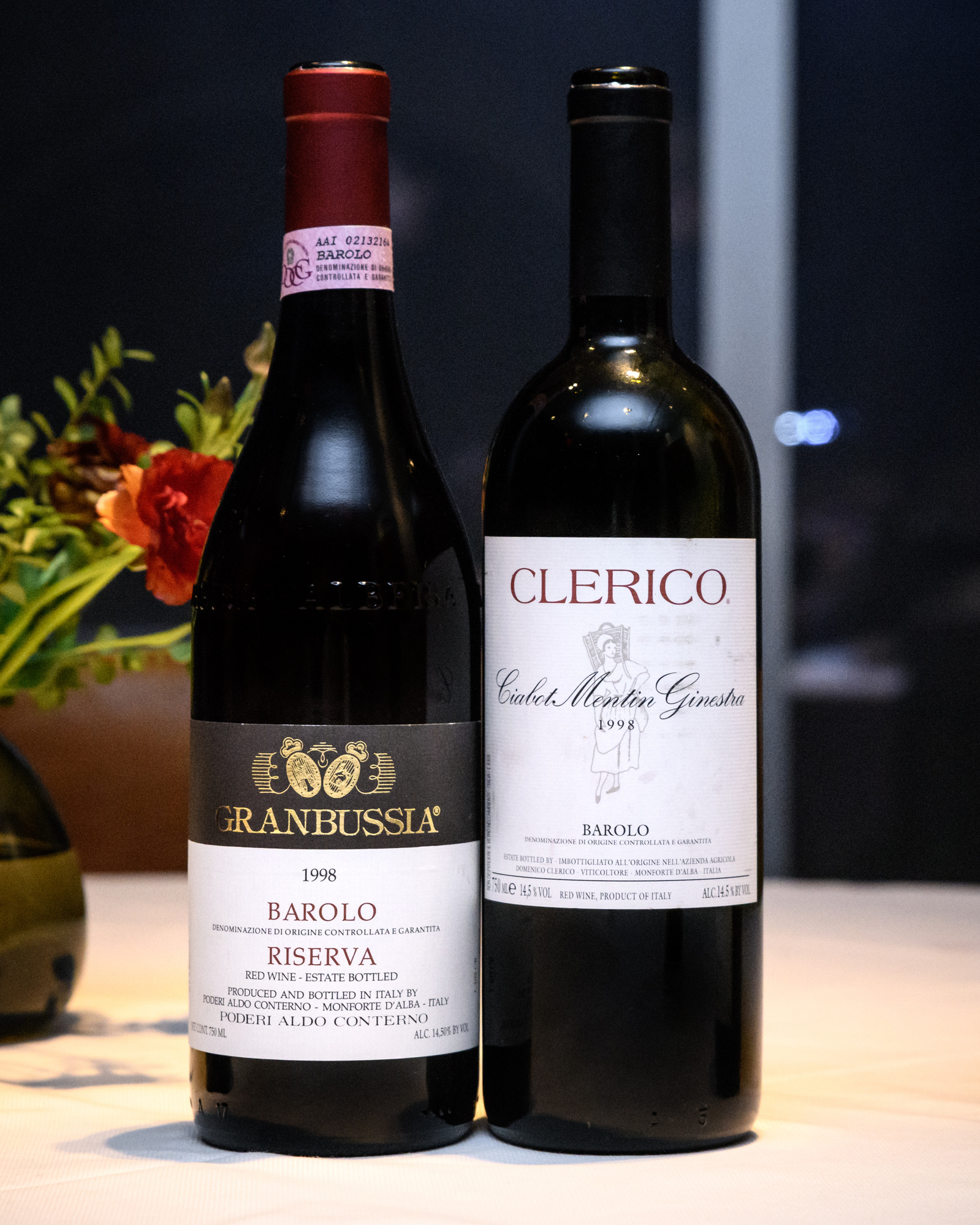 1998 Poderi Aldo Conterno Barolo Riserva Granbussia Flawed : ouch. sherry, mint, herb, sour cherry in mid. but clearly off. too bad.
1998 Domenico Clerico Barolo Ciabot Mentin Ginestra (92 Points): showing young, with floral notes - leaning toward violets, blackberry with hints of redder fruit as well. quite powerful mid, structured. grows redder with spice and herbs toward the back, tart cherry on the finish. It felt in need of some time to shine.

1998 Giacomo Conterno Barolo Cascina Francia (93 Points): It is insane to be disappointed by an excellent wine, but…when you expect revelation and "only" find joy… rich cherry tones, silk and plush, elegant, bright in the mid… earthy, light, smooth…what exactly am I seeking? I don't know… perhaps "intensity"? or "complexity"? surely it had both. I cant tell… but this was good, very good. Maybe even great.. just not what I expected.
1998 Bruno Giacosa Barolo Falletto di Serralunga d'Alba (94 Points): hello! yes.. whatever the Conterno was not giving - the Giacosa had in spades. This is not a shy wine. My notes here are simple - elegant sexy and bright. It made the Conterno into a wallflower. Hello indeed. Ripe bright cherry fruit, spicy with a hint of earth and a good amount of tannic structure still intact. Quite elegant for all its brashness, and simply delicious as well.
1998 Massolino Barolo Riserva Vigna Rionda (93 Points): This was the other wine tonight that clearly needed more time and had significant potential. Power of the fruit is balanced by bright mineral notes and a racy, tannic mid. It drinks significantly younger than others, and perhaps a bit less elegant as well but makes up for it in power and earthy, mineral laden fruit.
1998 Vietti Barolo Lazzarito Flawed : sadly this too was flawed. rather tired, with sweet ripe fruit and rather soft in the mid. plums and cherries.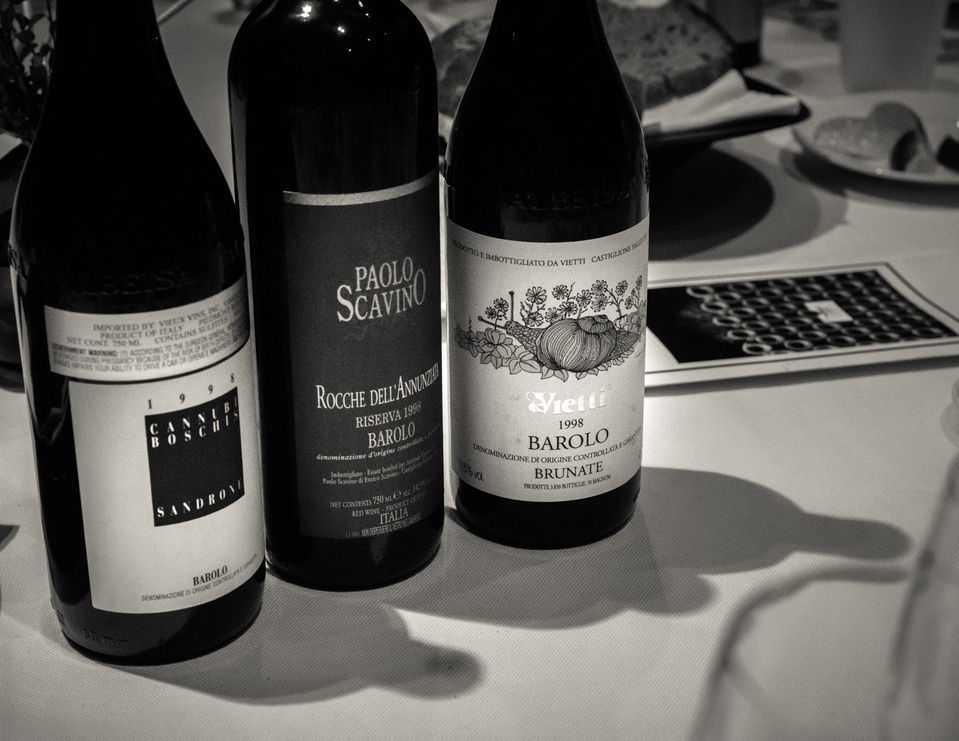 1998 Giuseppe Quintarelli Amarone della Valpolicella Classico (95 Points): Well Dorothy, we surely aren't in Piedmont anymore! Bitter chocolate, ripe red and black plum, warm spices, tea, smoke, plum pudding…do i really need to go on? pile on everything you can ever ask from an Amarone, add elegance, and that touch that only a "master" can bestow a wine… this is simply marvelous. even after the lineup we had - this was an unforgettable wine.

An incredible evening indeed!