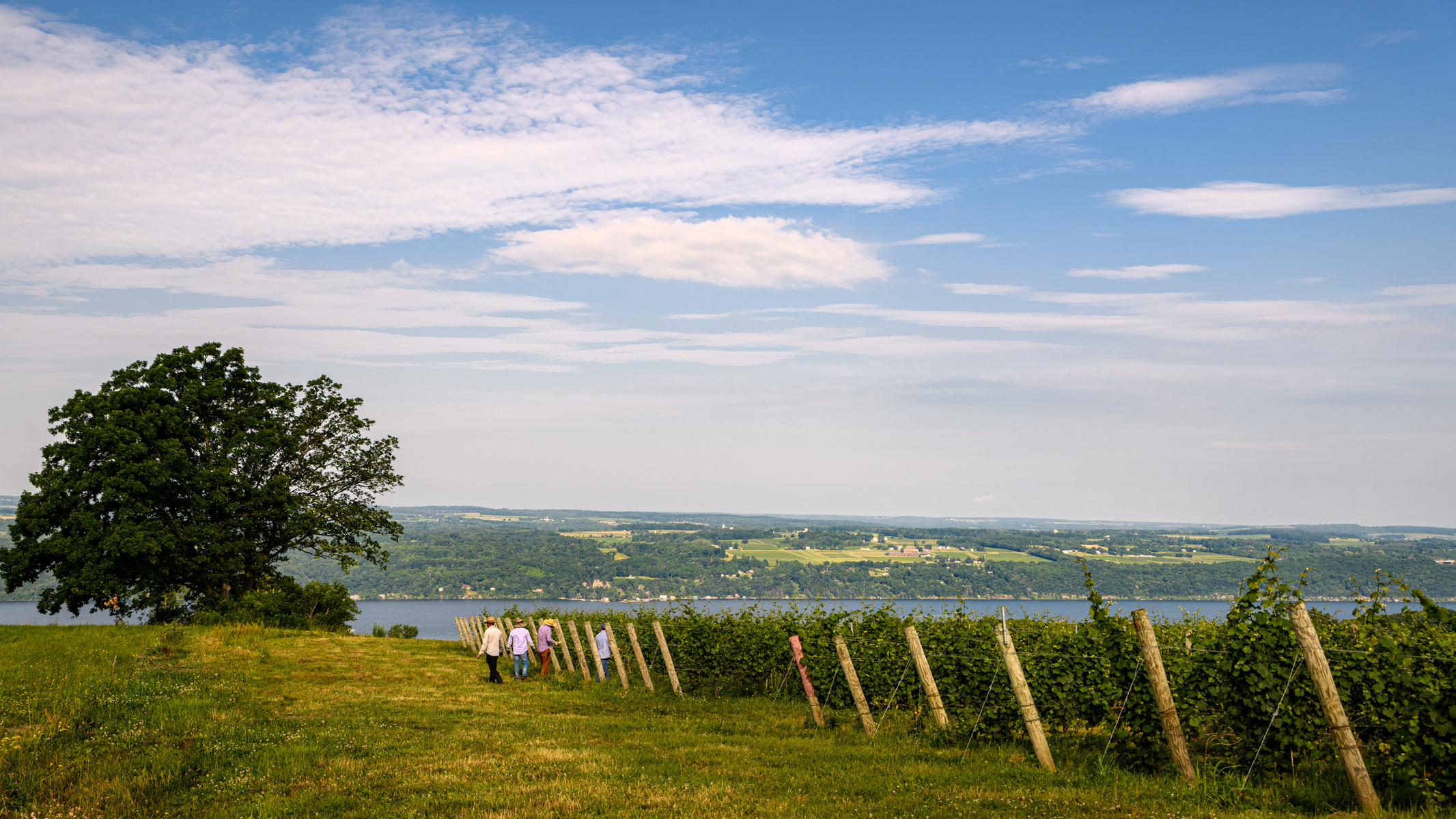 There are still photos to edit, wines to ponder on and a ton of ideas and questions rolling around in my brain after my weeklong stay in the FLX region. This trip was unlike the previous years, where I hiked the trails, spent time in the gorges and the wildlife sanctuaries. This was a concentrated effort to learn as much as I could about the vineyards, wines and winemakers of the region. Is a week enough? Surely not, but that is all I had and, after 20 appointments and 1500 photos, I believe it was a success. When I think of Seneca vineyards – I can picture at least some of the slopes, both on the east and the west of the lake. I can talk about the Keuka and the Cayuga Lakes with some understanding, beyond pronunciation. Moreover, I have a significantly better grasp on the wines as well – having tasted with many more producers and winemakers. Where does that leave me? What conclusions can I draw? Oh, come on… not everything in one paragraph!
As I have mentioned – this is not the full scope, there is much to consider. However, I wanted to highlight some of my findings and some of the best wines from the trip. First and foremost – quality. There is a clear interest in quality, and that is evident in the young winemakers in the region; it is evident in the new wineries that are being built "the right way" – with serious cellars, with a clear vision of the kind of wines they want to make, with a view toward either planting their own vineyards, or working closely with the grower to get the quality of the grapes that could catapult the wines onto the world stage. There is a spirit of innovation as well, an excitement about the future – that is what one wants to see in a region – fewer "we can't" and much more of "why not?" And one other very important thing, though it may seem minor, there is an eye to the world outside of the region. This is a key to success, in my opinion, looking beyond the FLX, beyond the USA for that matter. Learning, traveling, tasting with winemakers from all over the world. Which is why I applaud the FLXcursion Conference and the people who created and participated in it. It is exactly what the region needs – a dialogue with the world of wine.
Now, to the wines – I separated them into categories and chose my favorites. I am sure there are others well deserving of mention, but I will have more time to talk about each winery and category in the coming months. For now – only a few "must have" wines.
Sparkling Wines:
While I, personally, do not drink a lot of bubbly, I do find them to pair very well with a variety of food, much better than most wines due to their refreshing acidity and yet a broader, richer mouthfeel (I am a Riesling-geek – and Riesling plays the same game in my opinion). Finger Lakes sparkling wines have always been very good, but I wanted to highlight a few standouts.
First, the 2014 Dr. Konstantin Frank Pinot Noir Blanc de Noirs, I have had several BdN from the region that I found absolutely excellent. This is another example - deliciously delicate, with ripe citrus on the nose, serious yet quite floral. The palate shows good texture, creamier toward the mid, with ripe sweet Meyer lemon. The wine is brighter and fresher toward the finish, with a hint of citrus zest.
Another, and a very different expression is the 2014 Hermann J. Wiemer Back To Zero Blanc de Blanc. A very floral wine, with a nose of lovely white flowers and toast. The palate is complex with bright acidity, brioche and apple, adding a touch of lemon curd toward the finish. The hint of savory herb adds another layer to the wine, as well as leaves the palate refreshed. Finally, there is the 2011 Ravines Wine Cellars Brut. This is perhaps the most "classic" of the three – as well as benefiting from the additional age. The nose is unmistakable, toast, white flowers, hint of mineral. The palate is bright, citrus dominated with hint of apple at the front, and a bit more ripe lemon curd toward the back. The wine is spicy and juicy, showing a refreshing finish with zest and wet stone.
Dry and / or "Gently" Dry Riesling

I struggled with this category, because where does one draw the line on "dry"? Several wines here, in my opinion, would better be served in the "feinherb" or "halbtrocken" category. So I chose to borrow a word from Mel Goldman and call them "gently dry". Sometimes this had to do with the sugar/acid balance, and sometimes simply with the wine itself. However, this is clearly the most exciting category of wines from the region (in my opinion). Riesling's ability to age, to show terroir/microclimate, to work with and against the hand of the winemaker shows it self especially well here (can you tell I am biased?).
First, the "dry" – and none more so than the 2014 Tierce Riesling, a collaboration between Fox Run, Anthony Road and Red Newt. Three vineyards, three winemakers - could it be too many cooks? Not here, I absolutely loved it. Nose is lightly mineral, hint of sponti and lees, bright and sleek. The wine shows more stone and slate in mid palate, very fresh and citrus driven. The long finish is quite dry, tangy with some zest. An excellent dry style Riesling.
Another excellent example is the 2017 Ravines Wine Cellars Dry Riesling White Springs Vineyard. This, to me, is always an exemplary dry-style FLX Riesling. It opens with an ethereal, floral nose, leading to a mineral mid palate with gooseberry and citrus, as well as kiwi. Basil and thyme notes add to the back of the palate, culminating with a ginger and zest note on the finish. Wiemer wines need no introduction but the 2017 Hermann J. Wiemer Riesling Bio HJW Vineyard is an unusual wine. Sourced from a specific block of vines, planted in 2009, and farmed with biodynamic practices. The wine is very dry, with a lighter, more mineral infused style. This vintage showed a floral, juicy peach and apple tones on the nose. The palate was quite light, mineral and citrus driven. The back palate showed fresh acidity and wet stone. A long finish with citrus zest brought the wine to a refreshing conclusion.
Forge Cellars has been making some of my favorite "dry" dry Rieslings in the Finger Lakes. Their use of neutral oak and spontaneous fermentation gives the wines a unique lightness and allows the natural floral character of the grape to shine. This 2018 Forge Cellars Riesling Dry Breakneck Creek is a great example of that. It was my favorite of the three single vineyards we tried from the 2018 vintage. The nose is of lemon, apple and wet stone, with time the wine also shows a touch of savory herb. The wine is bright and mineral on the mid palate, with grapefruit and sage, and shows broader toward the finish with a lovely saline note. The long finish has a note of juicy citrus and spice. Obviously, this wine is in need of time, but is already a beauty.
Last (but not least – merely a wine that straddles the two categories perhaps) is the 2013 Red Newt Cellars Riesling Tango Oaks. This is an elegant wine, lightly floral (mainly white flowers), with a hint of almond. The palate shows white peach, mineral and is deeply textured, reminding me a bit of Gernot's Ellergrub. Loong mineral note leading to a dry, tangy finish Impressive.
Gently Dry
2014 Keuka Lake Vineyards Riesling Dry Falling Man Vineyard, labeled as dry, it feels closer to halbtrocken to me, and with 11 grams of RS (to the very respectable 8.5 of acidity) I think that makes sense. The wine sits right where my favorite "drier" style Rieslings fall. The wine has a spicy nose, with yellow peach and is quite floral. Ripe, sexy mid palate with a hint of cream before a long bright and tangy finish. I would love to sit with a glass of this and watch it develop (and I will!).
Another in this category is the 2017 Heart & Hands Riesling Paul's Legacy, with virtually identical 11g RS to 8g acidity. The wine is very serious from the start, mosel halbtrocken feel with savory herb (sage?), light peach and a hint of yellow grapefruit and melon. There is more pear and peach on the back palate with a hint of cream. Long, savory finish. Delicious if still rather young. The 2017 Heart & Hands Riesling Seneca East Vineyard is once again my favorite Riesling from H&H. I must use ethereal and elegant expression again – as many 17s and 18s show that quality. Palate is mineral, with white peach, soft yellow apple and pear. The wine becomes juicy and flinty toward the finish adding a savory and salty note. Really good!
The 2017 Silver Thread Riesling Doyle Fournier was my favorite of the three Single Vineyard wines I tried with Shannon and Paul. The vineyard, planted in 1973, is one of the older sites in the region. The wine, with 14 g of RS and 9 g of acidity feels right, as it hits the feinherb line just where I like it. It opens with lusher peach and grapefruit on the nose, showing the ripe fruit. The palate is broad, with grapefruit, mineral and lemon. There is a hint of cream just before a spicy and dry finish. This wine could use a bit of time, but really excellent. Perhaps my favorite "find" of the trip was the 2018 Weis Vineyards Riesling Winzer Select. This is a beautiful wine - especially impressive knowing the tough year. Made in a kabinett feinherb style with just a hint of sweetness and cream in the mid palate. Nose of exotic peach and stone fruit, with a freshness and ripeness I did not expect to find in 2018. The palate follows through with white peach, slate and a kick of ginger. The hint of softness toward the back is perhaps its only flaw. Long and tangy on the finish. I can't wait to see more!
Off-Dry Riesling
This category looks a bit skimpy, but only because I have already tasted and wrote about the fantastic 2016's from Wiemer last year. They did not make Joseph vineyard wine in 2017, and have not released their 2018 wines just yet. Nevertheless, I was happy to add a new name this time around – Weis Vineyards. I cannot wait to see what Hans Peter will show in the coming years, as his wines from the quite difficult 2018 vintage are spectacular. I have already written about the stellar Rieslings at Boundary Breaks. The "198" was a favorite for me last time, and is showing well again. We retasted the 2018 vintage together with the 2018 Boundary Breaks Vineyard Riesling No. 198 Reserve and it was hard to pick a favorite between them. The 18 is more floral, lighter, but with an intriguing note of quince and mango. The wine also shows notes of lychee and ginger on the finish. A very interesting expression.
The last of the "table wine" Rieslings is the 2018 Weis Vineyards Riesling Winzer Select (A) with (A) referring to Auslese, though technically this is a beerenauslese. This wine speaks the language of Mosel to me. Asparagus and exotic ripe fruit - apricot, peach and plum on the nose, dripping with honey. Mid palate is candied white peach, apricots and stone. Definitely on the sweeter side but keeping a savory edge with herb and freshness underlining the fruit. This needs some time but plays the Mosel card in my mind that makes me want more. Very impressive!
Vignoles

This is an unusual hybrid, but it creates a wine that can remind one of Riesling. Not only due to its ability to make delicious dessert wines, but also with its high acidity and fresh orchard fruit notes. There are several good examples in the Finger Lakes region, but the Turkey Run vineyard wines from KLV simply blew me away. Especially the ten year-old 2009! Up first, the young 2016 Keuka Lake Vineyards Vignoles Turkey Run Vineyard is a serious step up from the "basic" Vignoles in terms of complexity. It is a lighter wine but with clearer, brighter mineral profile. Palate shows light apple and pear tones, crisp and spicy with a hint of warmth on the long finish. Elegant and expressive. The 2009 Keuka Lake Vineyards Vignoles Turkey Run Vineyard was a real shocker. Served blind, I was sure it was a Riesling. Light petrol note on the nose, bright yellow peach and a hint of apricot. Sweeter, riper fruit on the mid palate but driving to a mineral finish with spice and zest. Excellent and a testament to the grape's potential.
Gewürztraminer

This is a fabulous, flamboyant and floral grape that does not care whether you like it, or not (but if you do not… you are simply wrong). It is a finicky grape, thin skinned, tightly bunched and overall a pain to grow. But when it's on … oh there are few others than can be in the same lineup (remind me again why is no one planting Sheurebe in FLX???). Again – I am clearly biased. But, while there is a ton of poorly made wine from this grape, when I find a good one, it always makes me smile.

The first is the 2017 Keuka Springs Gewürztraminer Dynamite Vineyard. This was on my "must try" list and my reason for the visit in the first place. This fits the bill of a Gewurz to get excited about. Ripe and juicy on the nose, with lychee taking charge, and rose petals close behind. This is a shameless Gewurz - floral and loving it. Mid palate is brighter, significantly more dry with just a hint of sweet fruit toward the back palate and a bit more roundness. The finish is spicy, adding the savory herb to the citrus party. Bravo!
The 2018 Keuka Lake Vineyards Gewürztraminer Sunrise Hill Vineyard was a total surprise. Firstly, I didn't know KLV even makes Gewurz (I hope they continue to – this is the first one). An impressive wine from start to finish - stylistically closer to the Trimbach wines of Alsace. Roses, subtle lychee tones on the nose. The palate is riper and broader, with ginger, red berry and rose water, but bright, for all the ripeness. Serious and powerful. If this is year one - I cannot wait to see more!
Chardonnay

Ah…to wade into this argument. Should it? shouldn't it? In my opinion, the answer is simple. Does the region make good sparkling wines from the grape? Yes. That is all I needed to hear. The rest – let the wines stand in their own. And they do – or rather, some do. Just don't look for California style wines here… or rather –that may have been part of the issue. Trying to make oaky, buttery Chardonnay in the Finger Lakes produces caricatures, and not pretty ones. Nevertheless, there is good chardonnay here, and this is just a sample and I purposely chose three wines from three very different vintages. There are several others that did not make this list, like Silver Thread and Bright Leaf, for example, but if this article was any longer… 2018 Heart & Hands Chardonnay is an obvious example of why it does work. This is fermented in a combination of large format oak and stainless steel. The nose is very floral, with ripe citrus on the palate and just a hint of buttery note. Yet this is a light and bright wine. Even though the wine went through 100% malolactic fermentation, it keeps itself very fresh, with bright acidity and saline, mineral notes. The finish is long and elegant. It needs a good six month more in the bottle but is very good already. Another excellent wine was the 2017 Nathan Kendall Chardonnay. This wine went through 80 % of malolactic fermentation in neutral oak (5-8 years old). The other 20% was in stainless steel. There is a light vanilla note on the nose that quickly blows off, revealing citrus and white flowers. Palate is ripe, citrus with a hint of butter, broad with lemon custard toward the back. Good mineral notes are hiding under the powerful structure. Long and quite complex already but begging for another year or two. A very serious wine. Lastly, the 2016 Element Winery Chardonnay from the warm vintage. A quite impressive wine as well, with juicy fruit on the palate. It shows a very mineral touch along with savory herb, and citrus. The wine is bright with a hint of softer citrus note toward the back palate but finishing fresh and dry.
Other Whites
I hate the "also ran" categories but there were several wines that did not fit the above and yet needed to be highlighted. First up, the 2017 Hosmer Grüner Veltliner Dry. This is an excellent grape, with the freshness of Savignon Blanc, but the broad palate of Chardonnay. And the wine delivers - refreshing, white pepper and herb on the nose. The palate is bright, with sweeter lemon and grapefruit (yellow). The wine shows good intensity with a hint of RS adding a softer touch. The back of the palate leans toward red berry, pear and apple. Very nicely done. Talking about Sauvignon Blanc, here is one - 2018 Hector Wine Company Sauvignon Blanc. This is a wine that deserves a smile – lovely, fresh, grassy nose, sparkling acidity, lemon curd in the mid palate, juicy fruit and white pepper on the back. What is there to not love? Grab a glass, or better, the bottle.
Now the 2018 Dr. Konstantin Frank Rkatsiteli Amber is a slightly different discussion. The skin contact and amphora in the winemaking harken back to the grape's Georgian roots. This vintage is even better than the 17 (which I absolutely loved) - a beauty! Nose is aromatic, sweet peach, perfume. The palate is quite textural from the amphora and skin contact, but also full of bright citrus and stone fruit. Long and delicious - the texture would let this wine pair well with almost any food. I would be happy to see even a bit more skin contact here but I am not complaining – I love it just as it is.
Pinot Noir
I have written about Pinot Noir from the region before. Forge makes excellent ones (we didn't get to try them this time as they were just bottled). Ravines, Dr. Frank, Nathan K, Element and Silver thread also showed interesting wines from the grape. However, my "must try" wine this time around was the 2015 Heart & Hands Pinot Noir Mo Chuisle. This is already an impressive wine with high aging potential. The nose is full of high-toned red fruit, cranberry and sour cherry. Tart and ripe core, earthy with deeper savory tones. Serious and needs time.
Syrah

Here is a grape that two years ago I had no idea I would be writing about. Syrah in the Finger Lakes? You are kidding, right? Ripeness, though, is the lesser issue. The vines do not survive well in the harsh winter. However, as Christopher Bates of Element pointed out, on certain sites, if properly planted – it could work. And here are two such examples – are they light? Perhaps, but Syrah can remind one of Pinot – it adapts well to the climate and since it is not naturally high in tannin, it shows ripe fruit without being harsh.
2014 Element Winery Syrah is an intriguing wine. Due to very low yields, it showed quite ripe plum, and juicy blackberry notes. The palate is full of black fruit, tart and mouthwatering acidity, more cassis toward back. The wine has a good grip, and is quite refreshing, with minerality showing through behind the fruit. Impressive. The first Syrah from the region that I had was the 2016 vintage from HWC. Planted in 1998, the vines are producing a consistent crop and the 2016 was absolutely delicious. The 2017 Hector Wine Company Syrah is also impressive. Ripe, but with a mineral and earthy component. Cherry, blueberry notes on the palate, becoming drier and redder on the back. This is a drier, earthier expression of the grape but still very much Syrah.
Saperavi and Lemberger
Why am I grouping these two together? I love what these grapes do overall, offering rich, black and blue fruit while retaining the bright acidity of a cool climate red wine. I am a fan. Firstly, the 2015 Element Winery Lemberger. What can I say - I love this stuff from the region and this is a perfect example. It does not take itself too seriously - and so much the better for it. Nose of perfume and red cherry. The palate is ripe, with sweet cherry, plum and juicy blackberry. Hard to not drink it all in one gulp. Purely delicious.
I have enjoyed the red wines from the 2016 vintage a lot. And these two are a great example. 2016 Dr. Konstantin Frank Saperavi - The jammy, black fruit on the nose offer deep sweet notes of blackberry and plum. The palate has a textured, tannic and juicy black and fruit. Sweet and savory herbs, good power in the mid palate, rich note on the finish this is a delicious rendition. 2016 Standing Stone Vineyards Saperavi Reserve
Offers rich plum, hint of savory herbs, tannic and rustic in the mid palate. Loads of power and rich black fruit, with a beautifully rustic texture on the finish. This one needs time to come together but should reward in a couple of years.
Red Blends
Like with the whites, there were a few wines that really deserved a mention. The first is the 2016 Dr. Konstantin Frank Lena Reserve Red. This is a combination of all red grapes from the property (Cab Sauvignon leads the blend but the wine also contains Merlot, Cab Franc, Saperavi and Pinot Noir). On the nose the wine shows ripe red berry. The palate is juicy and tangy, with a long savory note and sweet cherry toward the back, as well as cassis. Tannic finish. This is a serious wine that would benefit from some time in the bottle. 2017 Barry Family Cellars Four-Track Demo is a completely different wine. One that is hard not to fall in love with. Ian always wanted to try and co-ferment his red grapes. However, that is hard to do, since they come in at different time – but in 2017 he got his chance. 60% co-ferment of Merlot, Blaufrankish, Cabernet Sauvignon and Cabernet Franc (thus - 4 track) This is a cerasuolo-like wine (not in color but in texture) – full of red berries, sweet raspberry and cherry. The whole cluster fermentation adds a savory herb note to the wine. There is an iron note in the mid, tangy bright fruit, lusher toward the back with cherry and softer texture. This is simply a must try wine. Don't put it away. The wine is playful and ready to drink. A fantastic, fun and "drink now" red.
Dessert Wines
Dessert wines are a blessing and a curse. On the one hand – they are hard not to love. Especially in the tasting room. They are sweet, full of ripe fruit and always pack a punch… but how often does it appear at the table? That has been my struggle as well – and the issue is acidity. It is one thing to enjoy a glass of sweet wine at the tasting room – but for us to reach for a bottle at home, it needs to provide the refreshing quality we prize in dry wine. I believe the wines below do that. The first is a 2018 Keuka Springs Vidal Icewine, and this is what Vidal is known for. Picked in January of 2018 (thus, technically 2017 vintage but the law specifying the label must state the year the grapes were harvested). Vidal Icewines are always a pleasure-bomb. This one shows a nose of cooked peaches, apricot and tangerine. The palate is ripe but juicy and broad in the middle. White this is a big dessert wine, it is impossible to resist! Reminds me of the old Standing Stone Vidal Icewines of 20 years ago. Next up is the Fox Run Vineyards Fine Old Tawny. A personal favorite project of the winemaker, and it isn't hard to see why. Just don't think about Porto - think of Australia or PX Sherry. This is a stunning rendition of the hedonistic, uber powerful sweet wines of Rhutherglen. Figs, dates, clove, almonds, thick and sweet but with a great bite to it. Pure pleasure – but not for the faint of heart. A more classic dessert wine is the 2017 Hosmer Riesling Late Harvest. 2017 was a great year for Late Harvest wine/Icewine in FLX due to the large and healthy crop. This is another lovely example - mirabelle plum, juicy honeyed peach, hint of apricot. The long bright mid palate shows an auslese feel - sweet but not overly so. Brighter and fresher toward the finish. A very pretty wine. Finally there is the 2017 Weis Vineyards Riesling Eiswein. Stunning and only one of three I tried today (the other two are not even bottled yet). True eiswein - with the clean grapes left hanging. Very impressive - could have easily come from Germany. Hints of orange marmalade, candied orange, apricot and savory green peach. Finishes with a tangy sour plum. Not very sweet for all the obvious sugar, really well balanced. Perhaps missing that last spike of acidity but that's nitpicking! The other two were even more impressive- brighter and (one of them - picked at 50 brix) even more powerful.